Christmas Gifts and Flowers
It's beginning to look a lot like Christmas… and we have the perfect gifts to get you in the holiday spirit! Our collection of Christmas gift ideas has something for everyone on your list. So take a look and get inspired!
No matter what stage of holiday cheer you're at, our collection of Christmas gifts and ideas is sure to get you feeling festive.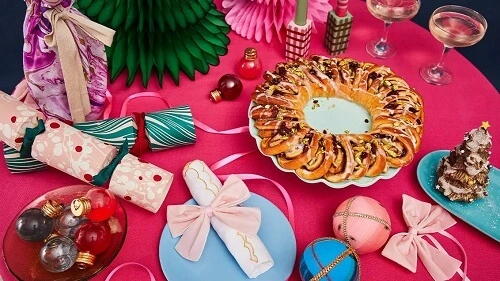 Christmas Gifts:

Christmas gifts are a time-honored tradition that dates back centuries. In modern times, Christmas gifts are given to family, friends, and loved ones as a way to show them how much they are loved and appreciated. Christmas gifts can be anything from a simple present to an elaborate gift, and they are often given with a card or note expressing the giver's love and best wishes. Christmas gifts are a cherished part of the holiday season and they are a wonderful way to show the people in your life how much you care about them.
So, what are some good ideas for Christmas gifts? If you are looking for something unique, try giving a gift that is handmade. For the person who loves to cook, a new cookbook or cooking utensils would be much appreciated. For the outdoorsy type, a new hiking backpack or camping gear would be perfect. And for the person who is always on the go, a new travel mug or suitcase would be ideal.
Whatever gift you decide to give this Christmas, make sure it comes from the heart.
Our Christmas gift baskets are filled with festive treats and goodies. Our online store offers a wide range of Christmas flowers, plants, and gift baskets that are sure to please everyone on your list.
Christmas Gifts on Sale:
Christmas season sale is fast approaching, and that means it's time to start thinking about what gifts to buy for your loved ones. Whether you're planning on surprising them with something special or just looking for the perfect stocking filler, a Christmas gift could be the answer. With discounts of up to 25% off on all items, you're sure to find something that your family and friends will love.
Christmas Gifts on Sale:
When Christmas rolls around, one of the most difficult decisions is what Christmas gifts for mom to purchase. It can be hard to find something that she will truly love and cherish. Fortunately, there are a few timeless Christmas presents that any mother would adore.
One great gift idea is jewelry. A pair of earrings or a necklace with her birthstone would show her how much you care. Alternatively, a framed photo of the family or of a special moment can make for an excellent Christmas present. For a more practical Christmas gift, consider getting mom something that she needs and will use often.
Christmas Gifts On A Budget:

If you're on a budget this Christmas, don't worry – there are plenty of great gifts you can give without spending a lot of money. You can give them the gifts they really want without spending a fortune.
A nice photo album or a basket filled with their favorite things can be just as special as an expensive present. Another way to save money is to shop Our sales and take advantage of Our discounts.
Christmas Roses

:
This Christmas, send a Flower Bouquet that includes red roses to show your friends and family how much they mean to you. Christmas Rose bouquets tend include red roses in addition with white flowers and greens making them an excellent way of showing someone just how much they mean during these holiday times.
At our shop, we have a wide variety of Christmas arrangements and plants to choose from.
Unique Christmas gifts for girlfriend

:
Unique Christmas gifts for your girlfriend can be hard to find. However, there are some great options available that will make her holiday season special! Choosing a personalized gift for your significant other is always a thoughtful idea; items such as customized jewelry or apparel, engraved picture frames, and mugs, or even custom-made art prints are all good choices.
If you're looking for something a bit more practical, consider buying her something that she can use every day like a tech device or a cozy blanket.
Christmas gifts for Men

:
If the man in your life loves tech gadgets, consider gifting him a smartwatch or an activity tracker. For the more fashion-forward man, you could look into stylish wallets and luxurious leather goods. Gift cards to his favorite store or restaurant can also be a great option. No matter what type of man you're shopping for, Christmas gifts for men don't have to be difficult to find. With a little thought, you can find the perfect present that will make Christmas extra special!
Christmas flowers:



One unique Christmas gift idea is to give Christmas flowers. Whether it's a classic Christmas poinsettia or an exotic Christmas cactus, Christmas flowers are sure to put a smile on your loved one's face. Christmas flowers also make a great addition to any Christmas decor, adding texture and color to the Christmas season. Giving Christmas flowers is an original way of showing your affection for someone special this holiday season. Show them you care with beautiful Christmas blooms!
Frequently Asked Questions
For the best Christmas flowers, it really depends on your preference. Some people prefer classic red and white arrangements while others prefer more unique floral designs.
If you're looking for something traditional, we have a great selection of red and white Christmas flowers. We also have a wide variety of other floral arrangements for those who want to go beyond the standard Christmas gifts. If you're looking for something a little more unique, then we would recommend checking out Flower Bouquets and Combinations Section.
Looking for a way to send some Christmas gifts to your loved ones this year? Why not send them a beautiful Christmas floral arrangement?
At our website, we have a wide selection of flower bouquets, flower combinations, cakes, gift baskets and much more. Simply select your favourite gift and we'll take care of the rest.
Spread some holiday joy this season with a special delivery from our shop!
We guarantee that your loved ones will appreciate your thoughtfulness.
Sending a flower at Christmas time can be the perfect gift for that person who has everything they need, but sometimes you just don't know what to get them. Flowers are beautiful and represent life-love so it's an easy solution when trying to think of something special without being too personal or expensive!